Joined

Jan 1, 2008
Messages

158
Note: I've tried my best to remain as factually accurate as possible. However, if you believe that I've made a genuine mistake, please feel free to PM me and I will issue a correction ASAP.
From Humble Beginnings
I made the mistake of asking in a Facebook group chat if anyone was interested in playing in the new round of Bushtarion. Only Mateen and Koeniej responded, but that was enough to set up an initial alliance. A few days into the round, TBA slowly formed by accepting literally any player that applied. No route planning meant we started with four robos, one striker, one SA, one puppet master, one PB, one PoM, one dragon, one vamp, and one generic / intel rusher (Steve_God). Such a late-game focused route setup combined with an average start date of three days into the round meant we were the whipping boys of the flak wars and early game. Defending against PBs with basics was not super fun, as Steve_God's 30 million hippies were our only line of defense for days. In our darkest moment, LAFiN decided to log in after being zeroed and offline for 28 hours. Our excitement of finally getting LETs was short-lived when LAFiN decided to run his freshly minted automatons into a wall of PBs. He logged off immediately and was not seen for another 28 hours. Thankfully, the abundance of bots meant we were happy to just sit back and take land hits, knowing we could easily steal it back. This was when we decided to officially change our name to "The Bot Assassins."
After bleeding land for well over a week, we were finally starting to catch up on route techs. We decided to try and launch a group attack on Discworld to get some revenge for our lost acres. On the morning of our planned DW attack, we were ambushed by Late Bloomers. We quickly decided to switch our target to Late Bloomers instead. We sent our SA player on a solo attack. After he drew seven defenders, we launched our main wave. The first two waves were not very successful, but by waves three and four, we were gaining substantial acres. After the fourth wave, we reached an agreement that we would stop hitting them so that we could both join the resistance together against Interlude if something were to happen down the road. A lot of fun was had on both sides, and we remained on good terms with each other. Unfortunately, Late Bloomers never really recovered from this initial war.
Resistance 1.0
On December 14, Stevey from P2W reached out to us about joining the resistance. We were tiny, but of course eager to offer any help we could. One day later, we swapped out Steve_God for Razorwolf. Steve_God hadn't logged in for a few days, and Razorwolf was a high-ranking solo at the time. It also helped that he was an extremist player with gurus, something that we desperately needed since our only PoM was relatively behind. A few days later, we replaced LAFiN with Vivi. Vivi's solo triangle had been playing with TBA for around a week at that point. Unfortunately, Vivi's most active PNAP made the decision to quit the game, which meant Vivi had to find an alliance as soon as possible since most other solos were already taken. Given that Vivi had already been in our discord channel, it seemed natural for him to join us instead of LO (who only had 11 members at the time).
The resistance at this point consisted of P2W, LO, DW, TBA, LB and some solos. Unfortunately, DW continued to hit LB as resistance talks were happening, which ultimately forced them to drop out of the resistance and effectively disband. MBGA was also absent from the resistance because P2W refused to work with MBGA and vice versa, so we were stuck with a band of all the smaller alliances, who didn't have many troops to begin with. It was around this time when OH issued a declaration of neutrality on discord, stating that they would not hit IL or MBGA in the event of a resistance, as long as IL and MBGA did not hit them. The resistance found themselves in an awkward situation as it meant that none of us would get any protection under this neutrality agreement. Our understanding was that if any of the smaller alliances participated in the resistance, OH would probably retal on behalf of IL. Within five minutes, P2W, LO and TBA quickly decided that we might as well try to eliminate OH instead, while MBGA kept IL busy. If you weren't with us, you were clearly against us.
An Inconvenient Truce
While our attacks on OH were underway, we got word that MBGA entered into a truce with IL until the following Monday. Apparently, MBGA did it to buy time for key devs (including SAs), but we never really learned why IL agreed to the truce. This was a disaster scenario for the resistance. The rank one alliance (IL) started hitting the rank four alliance (LO). The rank two alliance (MBGA) started hitting the rank five alliance (P2W). The natural progression would mean that the rank three alliance (OH) would probably just hit us, who were sitting in rank six. The situation quickly evolved from a resistance against IL (with a quick detour to kill OH first), to the top three alliances ganging up on the smaller alliances. Up until this point, TBA were happy to just ride on the coattails of the bigger alliances. However, with the resistance clearly at risk and mass incoming from OH likely imminent, I decided to try and step in to do some damage control.
The existing resistance was always going to struggle without MBGA's involvement. MBGA had the most troops, and without them, the odds of us taking down IL were slim to none. At the time, Jesse from P2W and QS from MBGA refused to work together against IL. With our backs against the wall, I proposed an alternative solution. P2W did not want LO and TBA working together with MBGA but using MBGA's troops against IL was clearly beneficial for all other alliances involved. I asked P2W for permission to form a new resistance with MBGA (without P2W), but promised that if MGBA ever became rank one, I would honor the original P2W/LO/TBA alliance and 3v1 MBGA. Meanwhile, I spoke to MrSux0rs about OH remaining completely neutral to all parties involved with the resistance, not just the top two alliances. With full neutrality with OH secured, a new resistance consisting of MBGA, LO, TBA and Discworld was formed.
"I've Lost Control"
Our plan was to start the resistance as soon as the truce between MBGA and IL expired on Monday, December 20. Oddly enough, on Sunday morning, TBA were inexplicably massed by ten players from DW. I asked Asmo in the resistance Whatsapp channel to ask his alliance members to recall, but unfortunately they never did. It is difficult for us to believe that such a coordinated attack was unsanctioned by their leader, but Asmo's only explanation to me was that he "lost control." As this mass attack was a gross violation of the NAP between alliances in the resistance, everyone quickly moved to eliminate DW as fast as they could. OH joined in as well, after they were informed that DW was no longer involved with the resistance. Discworld quickly folded under the combined pressure of both OH and the resistance, and ultimately disbanded later in the round. With Discworld out of the equation, we needed a replacement alliance in the resistance. After discussing at length with both P2W and MBGA, an agreement was reached for P2W to join the resistance as well, provided that Jesse and QS were never in the same Whatsapp channel. With that, the resistance officially kicked off on December 20th with MBGA, LO, P2W and TBA.
Resistance 2.0
The initial waves were planned by splitting up IDs and assigning them to alliances based on their relative size. MBGA took six ids, while the other alliances took three each. Progress was slow and steady with the resistance getting a few land hits per wave, before MBGA lost a huge BR. It appeared that IL's strategy was to primarily block MBGA while letting the other alliances through. MBGA started picking up on this and urged for a change in strategy. Koeniej from our alliance suggested a new strategy where we paired up alliances for each target. Koeniej and I planned a few waves under this new strategy, and it seemed to work a lot better, with us getting many more land hits per wave.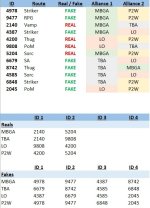 Unfortunately, this new strategy proved to be too cumbersome for other alliances involved, so we decided to go back to just simply assigning ids. Despite all the complaining from IL, the original goal of the resistance was to stop once IL was similar to MBGA in size. Clearly IL and MBGA had the best chance of winning the round, so it made sense to let those two fight it out for as long as possible. We simply wanted to even the playing field a little bit.
Last edited: